Tuesday, April 20, 2010
CONNETQUOT TEACHERS ASSOCIATION AND CONNETQUOT CLERICAL ASSOCIATION RAISE FUNDS
FOR AMERICAN CANCER SOCIETY
Bohemia, NY - The Connetquot Teachers Association, recently announced the successful conclusion to the 2010 Daffodil Days fundraising effort to the teachers, clerical staff and other staff members who made it possible. Coordinated by Nancy Dunlop (Connetquot Teachers Association) and Dorothy Schweers (Connetquot Clerical Association), the 2010 Daffodil fundraiser raised close to $3,500 for the American Cancer Society.
Mrs. Dunlop revealed that "…besides the generous donations made for the sale of the daffodils, 20 community members made $25 donations for the 'Gift of Hope', or a 'Teddy Bear & a bunch." 'Gifts of Hope' donations led to the delivery of flowers and teddy bears directly to pediatric cancer patients in area hospitals.
This year's fund-raising effort was coordinated by members of the Connetquot Teachers Association and Connetquot Clerical Association, building secretaries, Central Office personnel, Food Service workers as well as Custodial staff. Connetquot High School's 'Helping Hands' club members, under the supervision of advisors Laurie Schwartz and Pat Duda, wrapped and packaged the flowers for delivery.
Anne K. Thorenson, Senior Director of Special Events for the American Cancer Society, has said that " … the annual Daffodil Days promotion helps fund lifesaving research, education, advocacy and patient services." Connetquot's contribution, again, ranks among the top fund raising efforts in Suffolk County. This donation will help fund groundbreaking cancer research, as well as advocating meaningful public health policies that benefit the community.
Congratulations to Mrs. Dunlop, Mrs. Schweers, the Helping Hands Club and the entire Connetquot community for their efforts to help fund education, and encourage early detection, for this deadly disease.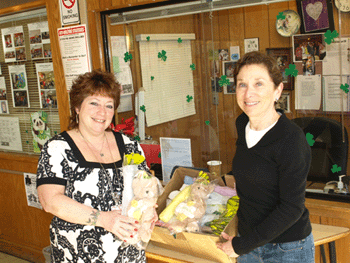 Nancy Dunlop (Connetquot Teachers Assocations) and Dorothy Schweers (Connetquot Clerical Association) deliver daffodils.